Bronte XL
Cargo Bike XL

The Cargo Bike Bronte XL represents the natural evolution of Bronte: more loading space, lower center of gravity, longer wheelbase but with a fork geometry designed to maintain high agility. Bronte XL is the perfect partner to move around stuff, not surprisingly it's the first choice for all our couriers and bike messengers. Its large loading space also allows you to easily transport kids (max 2) and animals. In alternative, if you want to organize a party or a barbecue outdoors it is tested up to 4 kegs of beer (full!).
All our frames are available both with high and low top tube configuration and they are totally customizable in our workshop according to your needs (geometry, size, paintscheme, accessories). Write us and we will find the best solution for you. Whichever is the best choice for you, your Bronte XL cargo bike will be a unique without replicas.
Price starting from 2900 €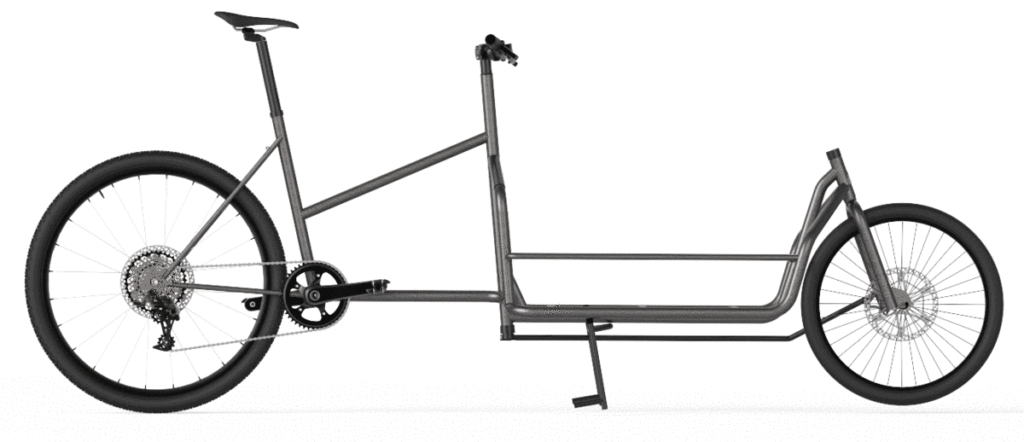 Setups
For Bronte XL we thought of standard Shimano setups, depending on the main use:
Touring: entry-level setup that allows you to deal with any terrain with agility thanks to its Acera 2×9-speed shift.
Urban: easily move around the city thanks to the Alfine8 internal gear hub that allows you to change gear even when stationary, for a quick re-start.
Wild: for those who can not settle and always aim for the best. Complete SLX 2×11 groupset, for a cargo bike sportive like a racing bike.
Accessories