E-Bronte XL 250W
Electric Cargo Bike XL

E-Bronte, available both in Short or XL version, is our electric cargo bike. Equipped with a powerful Oli Motors Edge mid-drive 250W (Made in Italy), it supports you from the first pedal stroke thanks to the active torque control. The big 17Ah battery grants you an operating autonomy of up to 100km.
E-Bronte is the perfect cargo bike for hilly cities, or for heavy duty jobs even on the day when you're not in your Tour de France shape. With the help of the powerful mid-drive engine, every job becomes possible and you just need to enjoy the ride!
All our frames are available both with high and low top tube configuration and they are totally customizable in our workshop according to your needs (geometry, size, paintscheme, accessories). Write us and we will find the best solution for you. Whichever is the best choice for you, your E-Bronte electric cargo bike will be a unique without replicas.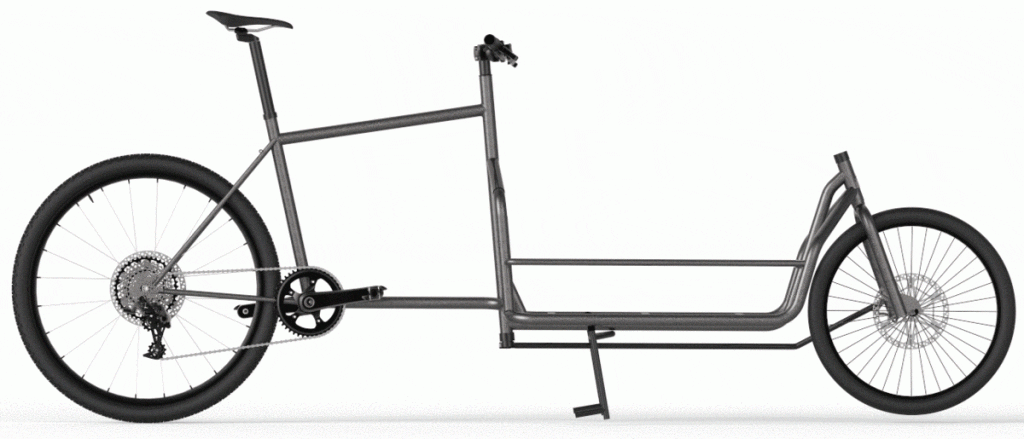 Setups
For E-Bronte we have designed a specific Shimano setup, to better fit the characteristics of an electric cargo bike. Our choice is to use only the Shimano Alfine groupset (8 or 11 speeds), with an internal gear hub.
The main advantages of this configuration are 3:
It allows you to change at while standstill. This is important when restarting, to avoid over-stressing the engine and unnecessarily consuming both battery and mechanical components.
It maintains a perfectly straight chainline in any gear, to allow the mid motor to work at its best. On assisted pedaling bikes in fact the forces on the chain are quite high, and a traditional derailleur groupset tends to wear out very quickly.
Virtually requires no maintenance. Just take care to shift while not pedalling, and change the chain every 5000km or so!
Accessories